February 2014
Submitted by admin on Thu, 05/22/2014 - 09:44
"Pharmacokinetics of a new subcutaneous diclofenac formulation administered to three body sites: quadriceps, gluteus, and abdomen". on International Journal of Clinical Pharmacology and Therapeutics.
December 2013
Submitted by admin on Thu, 05/22/2014 - 09:44
Vitale DC, Piazza C, Sinagra T, Urso V, Cardì F, Drago F, Salomone S. Pharmacokinetic characterization of tizanidine nasal spray, a novel intranasal delivery method for the treatment of skeletal muscle spasm. Clin Drug Investig. 2013 Dec;33(12):885-91. doi: 10.1007/s40261-013-0137-2. PubMed PMID: 24085590.
Link: http://link.springer.com/article/10.1007%2Fs40261-013-0137-2
Isoflavones: estrogenic activity, biological effect and bioavailability.
Submitted by admin on Thu, 05/22/2014 - 09:42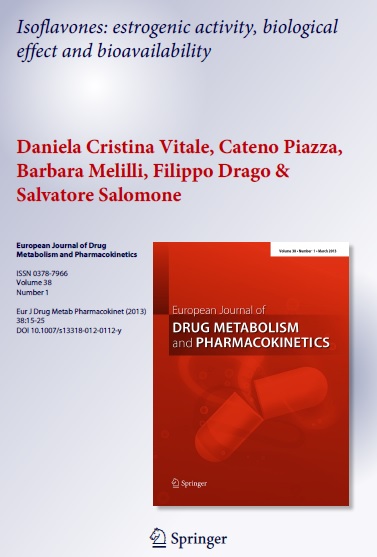 Isoflavones are phytoestrogens with potent estrogenic activity; genistein, daidzein and glycitein are the most active isoflavones found in soy beans. Phytoestrogens have similarity in structure with the human female hormone 17-β-estradiol, which can bind to both alpha and beta estrogen receptors, and mimic the action of estrogens on target organs, thereby exerting many health benefits when used in some hormone-dependent diseases. Numerous clinical studies claim benefits of genistein and daidzein in chemoprevention of breast and prostate cancer, cardiovascular disease and osteoporosis as well as in relieving postmenopausal symptoms.
November 2013
Submitted by admin on Thu, 05/22/2014 - 09:40
"Efficacy of adipose tissue-mesenchymal stem cell transplantation in rats with acetaminophen liver Injury", di Salomone F, Barbagallo I, Puzzo L, Piazza C, Li Volti G. Stem Cell Res. 2013 Nov;11(3):1037-44. doi: 10.1016/j.scr.2013.07.003. Epub 2013 Jul 25. PubMed PMID: 23954692.
link: http://www.sciencedirect.com/science/article/pii/S1873506113000858
Events: Validazione di un Metodo Bioanalitico
Submitted by admin on Fri, 10/29/2010 - 18:26
Unifarm è un Centro di Saggio (CdS) certificato dal Ministero della Salute,
in Buona Pratica di Laboratorio (BPL)